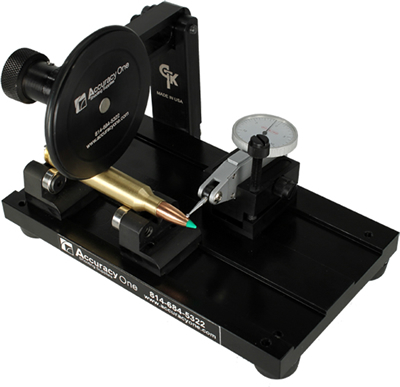 Marion, WI – In a joint venture with Accuracy One, CTK Precision has announced the release of the Accuracy One Concentricity Gauge.
The Accuracy One Concentricity Gauge measures the internal and external neck runout of your cartridge case as well as seated bullet runout. It can also measure the runout of the ogive, bearing surface and boat-tail of individual bullets and can even measure your primer pocket runout.
Concentricity Gauge Features:
Directional Drive Wheel pushes the cartridge or bullet into the stop for accurate repeatable readings with equal pressure. The replaceable rubber drive ring will not harm the cartridge or bullet.
Two position bullet / cartridge stop.
Ultra high precision ball bearings provide friction free movement.
Heavy steel base with E-coat finish & bolt on rubber feet.
Indicator stand and roller blocks ride in machined slots and are held in place by N42 Neodymium magnets which allow for very smooth, tool free adjustments.
Indicator stand rides in both machined slots which allows for both internal and external measurements.
Fine Adjustment Horizontal Indicator Stand will allow very smooth and fine adjustments.
Indicator Stand will accept horizontal indicators that are .350″ wide or narrower, and are 1.75″ to 2.25″ from the indicator contact point to the center of the main body.
Adjustable mechanical arm stop holds the arm up for one handed operation.
Precision Drive Wheel has a 13:1 ratio for .22 rimfire, 7:1 for magnums, and 3.7:1 for 50BMG.
Accepts cartridges from 22 rimfire to 50BMG.
The Accuracy One Concentricity Gauge is available at: www.bullettipping.com
About CTK Precision
CTK Precision is a U.S. based manufacturer of shooting equipment and gun accessories.  Their products are designed to maximize firearm efficiency, giving shooters more range time.  For more information on CTK Precision products, call 715-754-2891, or visit www.ctkprecision.com.