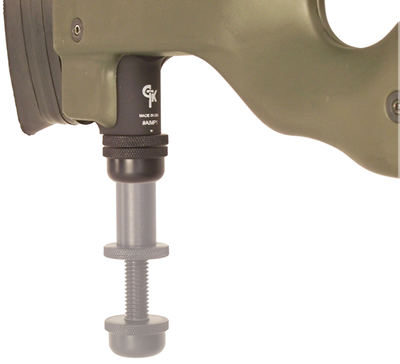 Marion, WI, July 9, 2012 – CTK Precision has announced the release of the AI Monopod. The AI Monopod is designed for Accuracy International AE, AW and AICS Chassis Systems.
The two stage telescoping leg of the AI Monopod provides 3.7" of movement and only protrudes from the chassis .875" when collapsed. The Cam locking 1st stage gets you on target in seconds and the threaded 2nd stage will fine tune the elevation. The rotating Delrin foot allows for precise elevation adjustments while the spring loaded pop out design gets you on target faster. The new Posi-Lock System ensures maximum stability.
The AI Monopod is manufactured from CNC machined billet aluminum for high strength and light weight (5.4 oz.). The MIL-SPEC hardcoat anodized finish ensures durability.
Installation of the AI Monopod requires only one drilled hole and slight side panel modification. The AI Monopod is permanently attached and deploys in seconds. It is an excellent addition to the Accuracy International Chassis System for shooting, observation, and steady range finding.
The AI Monopod is available at:  www.ctkprecision.com
About CTK Precision
CTK Precision is a U.S. based manufacturer of shooting equipment and gun accessories.  Their products are designed to maximize firearm efficiency, giving shooters more range time.  For more information on CTK Precision products, call 715-754-2891, or visit www.ctkprecision.com.